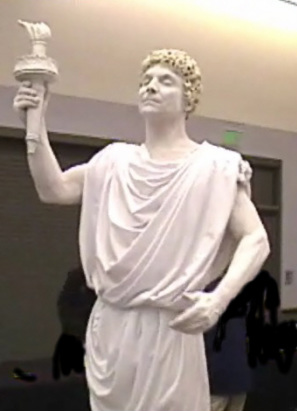 ABOUT OUR COMPANY
Our Living Statue performers create classic and unique entertainment for your event. Each performer has been trained in mime and
Japanese butoh
(a form of slow-motion movement and expression) to bring the statues to life. We start in stillness and then begin to subtlety interact with the guests. So your guests will frequently come back to "visit" the statue and have a photo taken.
We've found that many times people think we are "real" statues and the fun begins when they try to convince a friend that the statue winked or moved a body part. Our statues are also able to "come alive" and move in extreme slow motion as they transition from one emotional state to another. And when appropriate we create humorous interaction with the guests. We frequently become animated and dance to the band or DJ from our pedestals.
We perform on raised pedestals that can be placed at an entrance as a very strong visual or within a specific setting in the cocktail, dining area or main ballroom. We also specialize in working for different companies at trade shows ... to draw people into a booth area, and to promote a specific product or company, either by wearing a logo or holding and or demonstrating a specific product.
We can create just about anything you can imagine ... from a window mannequin to a mechanical doll to a bronzed gorilla. Just tell us what you have in mind ... and we'll help you create it.




Clients Include:

Sony Pictures, IBM, LPGA, Samsonite, Emmy Awards, Academy Awards, Cisco Industries,Owens Corning, Microsoft, Google Inc., Canadian National Railway, AIG, In&Out Burger, Disneyland Hotel, Beverly Hills Hotel, Beverly Hilton Hotel, Staples Center, Pelican Hill Resort, Universal Studios, Regis & Kathie Lee, NBC Today Show, Sony PlayStation3, The History Channel, Diana Ross, President Gerald Ford and many others